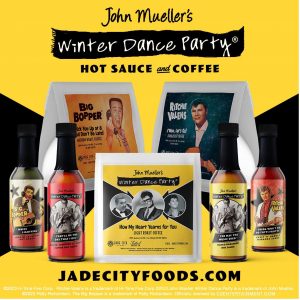 FOR IMMEDIATE RELEASE
C3 Entertainment, Inc. Partners with Jade City Foods to Bring the Heat with The Winter Dance Party, Ritchie Valens and the Big Bopper Hot Sauces and Coffee
Burbank, CA – May 2, 2023 – C3 Entertainment, Inc. is thrilled to announce its latest licensing deal with Jade City Foods to produce a line of hot sauces and coffee inspired by The Winter Dance Party, Ritchie Valens and the Big Bopper. Fans of the iconic musicians can now bring the heat to their taste buds with four bold new hot sauce flavors and two distinct coffee blends.
The hot sauce line features a range of flavors, from the smoky kick of the Big Bopper's Smoked Jalapeño Sauce, aptly named "White Lightning," to the fiery Rock n' Roll heat of the Reaper, Scorpion, Ghost Pepper Sauce, "That'll Be The Day That I Die!" Other flavors include Sweet & Smoky Sriracha Sauce and a Mango Habanero Sauce. The coffee blends range from the Winter Dance Party Light Roast to the dark and robust Ritchie Valens' Dark Roast.
The individual coffees and sauces, as well as a four-set sauce pack and three-set coffee packs, are now available to purchase online at https://jadecityfoods.com/pages/winter-dance-party. Fans can enjoy these delicious new products from anywhere in the world.
"We are thrilled to partner with Jade City Foods to bring these long-awaited, exciting new food and beverage items to our fans," said C3's Executive Vice President of Licensing. "We know that our iconic brands have a strong and dedicated fan base, and we're excited to offer them a fun and delicious way to celebrate their love for The Winter Dance Party, Ritchie Valens, and the Big Bopper."
Co-founder of Jade City Foods, Cliff Wiener, shared his excitement about the partnership, saying "I am ecstatic to work with such legendary musicians and help bring their legacy to the fans in a new and fun way!"
About C3 Entertainment, Inc.
C3 Entertainment, Inc. is a diversified entertainment company, specializing in Licensing, Production and Distribution.  C3 h
as been in business for over 60 years since C3 was originally founded as Comedy III Productions, Inc. in 1959 by the famous comedy team, The Three Stooges. C3′s success and unique experience in both the entertainment and licensing industries have attracted other celebrity and iconic brands seeking to further develop, grow and expand. Every brand has its own special attributes that "connect" the branded experience to the ultimate consumer.
About Jade City Foods
Jade City Foods is the leader in creative food licensing with over 30 partnerships including museums, fictional characters, and professional sports leagues. Jade City creates a diverse range of product lines including coffee, hot sauce, spices and even chocolate covered pretzels. Jade City is changing the way the world thinks about food, one bite at a time.