A legendary artist that still resonates today, Ritchie Valens made history as rock music's first Latino star with popular songs such as "La Bamba" and "Donna." Credited with being the forefather of the Chicano rock movement, Valens was one of the original pioneers of rock 'n' roll.
Valens began recording for Del-Fi Records in 1958. In a career spanning only eight months, he recorded three albums of over 30 songs and released nine singles including five chart-toppers with "Donna" peaking at #2 on the Billboard pop chart in 1958.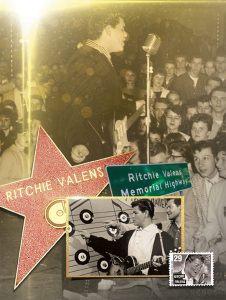 His revolutionary household classic, "La Bamba," fused elements of a  traditional Mexican folk tune with rock 'n' roll.
Since his untimely death at the age of 17, his music has gained in popularity and influenced generations of musicians. Jimi Hendrix and Carlos Santana have both been cited as influenced by Valen's guitar playing. Artists from Led Zeppelin to Los Lobos have recorded his music.
Valens was inducted into the Rock 'n' Roll Hall of Fame in 2001, is remembered with a star on the Hollywood Walk of Fame, a Freeway Memorial, a Commemorative U.S. Postage Stamp, and a Tribute Film of his life was made in 1987.
Ritchie Valens along with legendary musicians Buddy Holly and The Big Bopper died in a tragic plane crash on February 3, 1959, during their Winter Dance Party tour; a day referred to as the day the music died.
To Inquire about becoming a Licensee click below.