The Three Stooges Movie is the No. 1 DVD & Blu-Ray Seller in America!
The Three Stooges are back, and going strong as ever! Twentieth Century Fox Studios and C3 Entertainment released the all new Three Stooges Movie as one of the biggest hit comedies of 2012. Larry, Moe and Curly make a triumphant return to the big screen with The Three Stooges madcap slapstick action from the greatest comedy trio of all time. Will Sasso, Sean Hayes, and Chris Diamantopoulos star as The Three Stooges with Peter and Bobby Farrelly directing from their all new screenplay written with Mike Cerrone. The star studded cast also includes Larry David, Sofia Vergara, Jane Lynch, Jennifer Hudson, Stephen Collins, Craig Bierko, Kirby Heyborne, Kate Upton, and Carly Craig.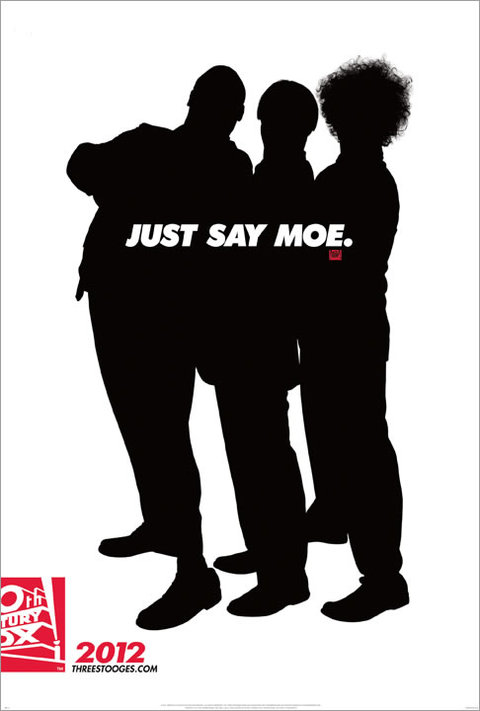 The new Three Stooges Movie is an all new adventure for the Stooges which begins, in the beginning… left on a nun's doorstep, Larry, Curly and Moe grow up finger-poking, nyuk-nyuking and woo-woo-wooing their way to uncharted levels of knuckleheaded misadventure. Out to save their childhood home, only The Three Stooges could become embroiled in an oddball murder plot…while also stumbling into starring in a phenomenally successful TV reality show.
As one of the most anticipated films of 2012, Three Stooges fans everywhere celebrated the first new Three Stooges film in nearly fifty years. The New York times reviewed the new Movie and made it a Critics' Pick. Executive Producer Earl Benjamin said "This is such an exciting moment to see The Three Stooges return to theaters everywhere and bring back the greatest brand of slapstick comedy for fans of all ages to enjoy again. This is a family film that everyone can go to and laugh together as these lovable morons once again capture the hearts of people all over the world."
The worldwide release of the new Three Stooges Movie has reignited the everlasting popularity of one of greatest celebrity brands all over the world. View the movie trailer and for more information, photos and fun stuff on the new movie, visit threestooges.com and visit us on Facebook.
To Inquire about becoming a Licensee click below.