The Three Stooges are the most famous comedy trio of all time, American icons and the very definition of an evergreen brand with a continous marketplace presence since the 1930's both in themed merchandise and as spokespersons for major brands in advertising in all media.
The Three Stooges have a 95% recognition factor by the American public and also enjoy worldwide appeal with their shorts, feature films, cartoons, and other programs playing regularly in over 40 countries. With the sucess of their 2012 movie and another Three Stooges feature film in development, The Three Stooges are as popular as ever.
A huge attraction for advertisers as Major brands, domestically and internationally, have used The Three Stooges in many national advertising campaigns for decades ranging from television spots to integrated multimedia campaigns. 
The Three Stooges have a huge social media presence accross multiple platforms, and a wide  generational appeal as the brand appeal cuts across all ages, education levels, income, geography, and gender.
.


It's finally here!
Our fans asked and we delivered.
With millions of Three Stooges fans that have been waiting for this channel, it's finally here. The new THREE STOOGES+ is the one-stop channel where fans all over will be able to binge watch all their favorites Stooges antics.  This channel will feature over 100 hours of all the 190 Three Stooges Columbia classic shorts, features, cartoons, TV Specials, pilots, documentaries and rare non-Three Stooges Columbia shorts that feature Shemp, Joe DeRita, Joe Besser, Vernon Dent, Emil Sitka and much more. 
The Three Stooges+ channel is available as an AVOD channel and a FAST Channel.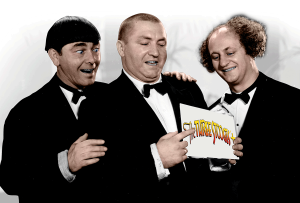 ALL NEW DIGITALLY REMASTERED IN PRISTINE HD QUALITY
The Three Stooges are the most famous comedy trio ever. For many years, the Stooges have entertained millions of fans all over the world with hundreds of films, personal appearances and shows. Since the very beginning of television, the Three Stooges films have been popular on TV all over the world, and still are even today. The Three Stooges comedy is timeless and evergreen, as new generations are introduced to the unique and special comedy of The Three Stooges.
Now, for the first time ever, all the Three Stooges classic comedy shorts, features and cartoons are collected in one place, a beautiful fully HD TV channel-The Three Stooges+. Featuring over two hundred shows and more than a hundred hours of wacky Three Stooge's antics for all to watch whenever and wherever they choose. Best of all, It's FREE!
FAST. A NEW KIND OF STREAMING TV. FAST AND FREE!
FAST stands for Free Ad-supported Streaming TV. Streaming linear TV programs without paying any fees. The recent growth in FAST streaming is because people love watching free content without any prior commitment, as well as specially curated content to their liking.  Advertisers also benefit from FAST channels as they can target audiences of certain genres. FAST Channels will be essential to reach audiences advertisers would otherwise be missing and to target select groups of viewers with specific types of programming. Media experts predict that within the next four years, streaming share of ad revenue will explode to over $70 billion, while linear TV declines to $30 billion.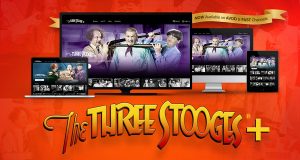 THE THREE STOOGES+ CHANNEL IS A NO-BRAINER
The Three Stooges+ Channel is brought to you by Valorous Media, a wholly owned subsidiary of C3 Entertainment ("C3"). C3 is the original home of The Three Stooges formed by the Stooges themselves over sixty years ago and has been exclusively responsible for managing all the rights of The Three Stooges. Valorous Media was created as a streaming media company and formed a streaming SVOD channel from the film library of C3, called ValorousTV.Com.
C3 and Valorous have entered into an all new license agreement with Sony Pictures Entertainment to live stream all of Sony's Three Stooges content together with content from C3 for the new The Three Stooges+ channel. The new The Three Stooges+ channel cannot miss for the following reasons:
• Timing is perfect with the current surge in demand for new FAST and AVOD channels.
• The Three Stooges features are more than proven TV content with many years of successful linear TV results in multiple markets worldwide.
• The Three Stooges represent "Classic TV" more than any other brand.
• Nobody knows The Three Stooges better than C3, the home of the Three Stooges.
• Valorous has the expertise and experience to launch more streaming channels.
• With the license of additional Three Stooges content from Sony, The Three Stooges+ Channel has all the great Three Stooges content that nobody else has.
• The Three Stooges+ Channel has great resources to attract immediate viewers with social media contacts, such as nearly 2 million followers on Facebook.

THE THREE STOOGES ROBUST SOCIAL MEDIA WILL GIVE A BIG BOOST TO THE THREE STOOGES + CHANNEL
• 2+ Million Followers with an extremely high engagement rate
• 10 to 20 Million average monthly reach (often higher)
• 3 Million average native video views per month
• 75% Of Fans are based in the U.S. 
The Three Stooges videos have a strong popularity on YouTube with millions of views and the new The Three Stooges Tik Tok is growing rapidly with thousands of followers.