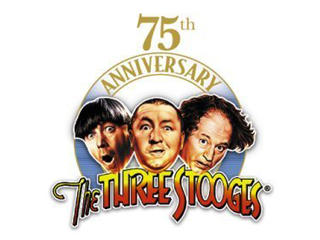 TV Guide Raves About The Three Stooges 75th Year Anniversary TV Special on NBC
Three is still the magic number
The Three Stooges were more than three noses in search of pliers. They were serious, madcap, Oscar-nominated craftsmen. And, to be exact, they were six noses: Moe's, Curly's and Shemp Howard's, Larry Fine's and, later, Joe Besser's and Curly Joe DeRita's.
In 1958, just when the Stooges seemed washed up, Columbia Pictures released their 190 short features to TV and a new generation embraced them. Now C3 Entertainment, the company founded by the Stooges to protect their interests and run today by Stooge descendants, has produced the Three Stooges 75th Anniversary Special (NBC, April 1, 8 P.M./ET), an hour-long, clip-filled salute showcasing the funniest of the Stooges' nearly 300 filmed hours of slaps, slugs, bonks, nyuk-nyuks, woo-woos and plumbing tools used as behavioral aids.
"Today's world is very complex," says C3's Eric Lamond, who is Larry Fine's oldest grandchild. "The Three Stooges bring a non-threatening humor that has no agenda behind it. There's a lot more to it than a poke in the eye." Boing!
Woody Harrelson hosts this affectionate overview of one of comedy's most enduring and influential acts.
"I think that anybody who doesn't like the Three Stooges just never really watched," says Bridget Fonda, who cites their 1941 Hitler parody I'll Never Heil Again as a personal favorite. Others commenting: Michael Chiklis, who played Curley in a TV movie; filmmakers Bobby and Peter Farrelly; Tom Arnold; and SNL's Tracy Morgan, who credits the Stooges with teaching him comedic timing. Classic clips include the boys' first film appearance during their vaudeville days; a TV stint with Frank Sinatra; and fans' favorite scenes, as determined by an online poll.