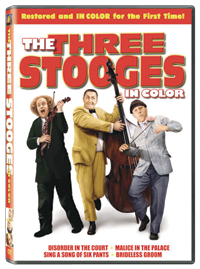 Legend Films, under license from C3 Entertainment, Inc. is producing and distributing four classic Three Stooges shorts on DVD in full color for the first time! These classic episodes include Larry, Moe, Curly and Shemp performing the comedy that made them famous.
The shorts are Disorder In The Court (1936) with Larry, Moe and Curly as key witnesses in a murder trial creating mayhem in the courtroom; Brideless Groom (1947) with Larry Moe and Shemp where Shemp needs to get married within seven hours to get his inheritance; Sing A Song Of Six Pants (1947) with Larry, Moe and Shemp catching a bank robber in classic Three Stooges style; and Malice In The Palace (1949) with Larry, Moe and Shemp searching for an exquisite 100 carat diamond in the land of Shmow.
Also included are introductions to the shorts by 'The Film Crew' including Mike Nelson of Mystery Science Theater 3000 and RiffTrax plus restored versions of the original black & white films. The shorts were restored and remastered from original 35mm elements, so get ready to experience the antics of The Three Stooges in color.