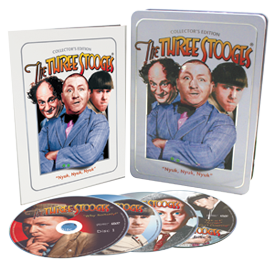 Prepare to be slapped upside the head by the kings of slapstick as Larry, Moe and Curly (sometimes spelled by Shemp) bring their classic routines into your living room.
Slip these discs into your player and prepare to slip a disc laughing through The Three Stooges early shorts, movie trailers, TV guest performances and commercials with that unique Three Stooges twist. Get ready for some Beer And Pretzels, Corn On The Cop, Nertsery Rhymes, and the feature length Swing Parade Of 1946 plus a real rarity with Curly's solo performance in the MGM short Roast Beef And Movies from 1933.
Elsewhere in this collection you will find the trio's invasion of prime time TV on The Steve Allen Show plus many candid moments from the Family Album documentary. A special bonus disc with 13 cartoon episodes from the Stooges animated adventures also has live action wrap-arounds for even more hilarity.
The DVDs are packaged in a colorful collector tin and includes as a bonus a Three Stooges Button and illustrated booklet for even more laughs.