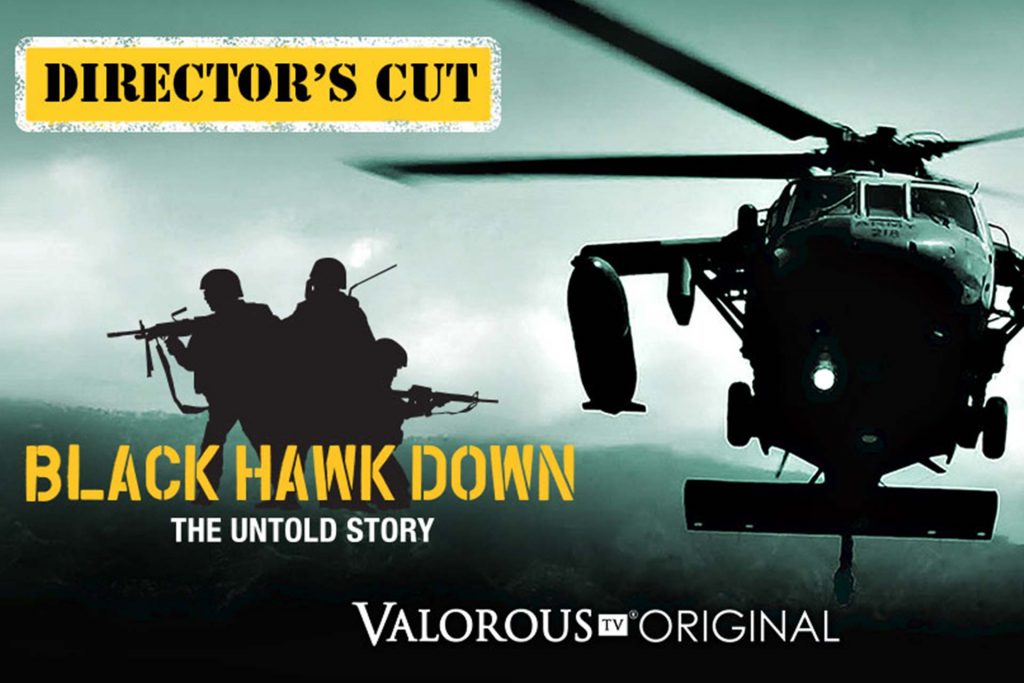 Los Angeles, CA – March 29, 2019 – Valorous TV, the all-new digital streaming subscription service from Valorous Media, Inc. digitally premieres the new Director's Cut of the documentary, Black Hawk Down: The Untold Story. This documentary film features never-before-seen footage, with stories told directly by the troops who were on the ground during the Battle of Mogadishu, as well as commentary by General Mark A. Milley, the 39th Chief of Staff of the U.S. Army. Valorous TV is the exclusive streaming service to premiere this powerful documentary.
Black Hawk Down: The Untold Story is a one-hour documentary on the heroic efforts of the soldiers from the 2nd Battalion 14th Infantry Regiment, 10th Mountain Division (2-14). The documentary was originally released November 12, 2018, in honor of the 25th anniversary of the rescue mission and in conjunction with Veteran's Day 2018.
The story of the 2-14 was left untold in the feature motion picture, Black Hawk Down (2001). These soldiers from the 10th Mountain Division demonstrated extraordinary courage, skill, and discipline as they fought their way into a "baited ambush" to rescue the 99 special operations forces pinned down at the crash site of Super Six-One while also attempting a rescue at the crash site of Super Six-Four – what many have described as the most ferocious urban combat since the Battle for Huế in Vietnam during the Tet Offensive in 1968.
"It is very special for Valorous TV to premiere the director's cut of this exciting, new documentary," said Earl Benjamin, President and CEO of Valorous TV. "The film finally tells the whole story behind this incredible display of valor, bravery, and sacrifice by our great United States Military."
Executive produced and directed by Colonel Randall Larsen, USAF (Ret). Larsen is the CEO of Randall Larsen Presents, a company dedicated to bringing great stories in film and print to the American public. He previously served as a professor and department chair at the National War College.
"I am extremely proud to help tell the untold story of the soldiers from Task Force 2-14," says Larsen. "After a quarter of a century, it is time to set the record straight."
About Valorous TV:
Valorous TV is an exciting, all-new Digital TV Subscription Service from Valorous Media, in partnership with C3 Entertainment, which originated 60 years ago from the famous comedy group, The Three Stooges. Valorous TV focuses on bold and brave films, stories and reports of courage and uncommon valor. Valorous TV digital streaming service features over 1500 programs, including the very best in movies, documentaries, series, and news devoted to heroes of today and throughout history, in wars and conflicts, police, first responders, firefighters and citizens with stories of sacrifice and bravery, including new original content exclusive to Valorous TV. So many heroes and so many great stories that will excite you, inspire you, entertain you, and thrill you. It's about time we have a real TV subscription service that honors and celebrates the good in people with acts of uncommon valor – Valorous TV – join the service today!
Valorous TV is Home for the Heroes
Now on the web (ValorousTV.com), Amazon Fire and Roku, Valorous TV enables viewers to stream the best programming anytime, anywhere and provide viewers with high-quality content that entertains, thrills, and inspires. Television where people can enjoy good programming that matters to them; specially curated movies and news, that at the same time honors America's great military and civic service.
Follow Valorous TV on social media:
Twitter: @ValorousTV
Instagram: @ValorousTV
Facebook: /ValorousTV
Watch Black Hawk Down: The Untold Story – Director's Cut Now Streaming Exclusively on Valorous TV.