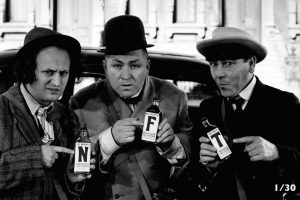 The Three Stooges are one of the most beloved and well known comedic acts on television and film for generations and they have just joined the NFT craze with the upcoming launch of fun new limited edition NFTs.
The drop of The Three Stooges NFTs is scheduled for April 23rd on OpenSea.io, and the bidding is expected to attract some of the biggest Stooge fans out there. The campaign features NFTs of some of Moe, Larry and Curly's most iconic scenes. There's also a limited edition "All Stooge Team" football card fans can bid on.
One of the most exciting aspects of NFTs is the unlockable content. The limited edition "Fortune Curly" NFT features Curly dressed up as a fortune teller, and each winning bidder will be able to unlock a secret fortune, as told by Curly. Other NFTs include the 1 of 1 Crypto Moe, Crypto Larry and Crypto Curly NFTs done in a style similar to the famous Crypto Punks.
C3 Entertainment, Inc., the Three Stooges licensing company, has partnered with Power Up NFTs to bring the Three Stooges NFTs to life. Commenting on the upcoming launch, C3's Executive VP of Licensing Ani Khachoian said "We are excited to take The Three Stooges into a new era, with NFT designs that Stooge fans all over the world will love."
For more information, please visit https://stoogenfts.com.
About The Three Stooges
The Three Stooges have entertained millions of fans all around the world for eighty years, and are still going as strong as ever today. With a body of work including over 220 films, personal appearances, stage shows, and continuous play on television every day, The Three Stooges are forever ingrained in our culture.
About C3 Entertainment, Inc.
C3 Entertainment, Inc. is a diversified entertainment company, specializing in licensing, production and distribution. It has been in business for over 60 years since C3 was originally founded as Comedy III Productions, Inc. in 1959 by the famous comedy team, The Three Stooges. C3′s success has attracted other celebrity and iconic brands seeking to further develop, grow and expand.
About Power Up NFTs
Power UP NFTs brings blockchain experience and app development experience together to create exciting NFTs for some of the world's most iconic brands. Upcoming NFT collections include Ritchie Valens and celebrity chef Jason Santos.
Press Contact:
Ani Khachoian
Executive Vice President of Licensing, Merchandising and Distribution
akhachoian@c3entertainment.com
818-956-1337 ext. 215