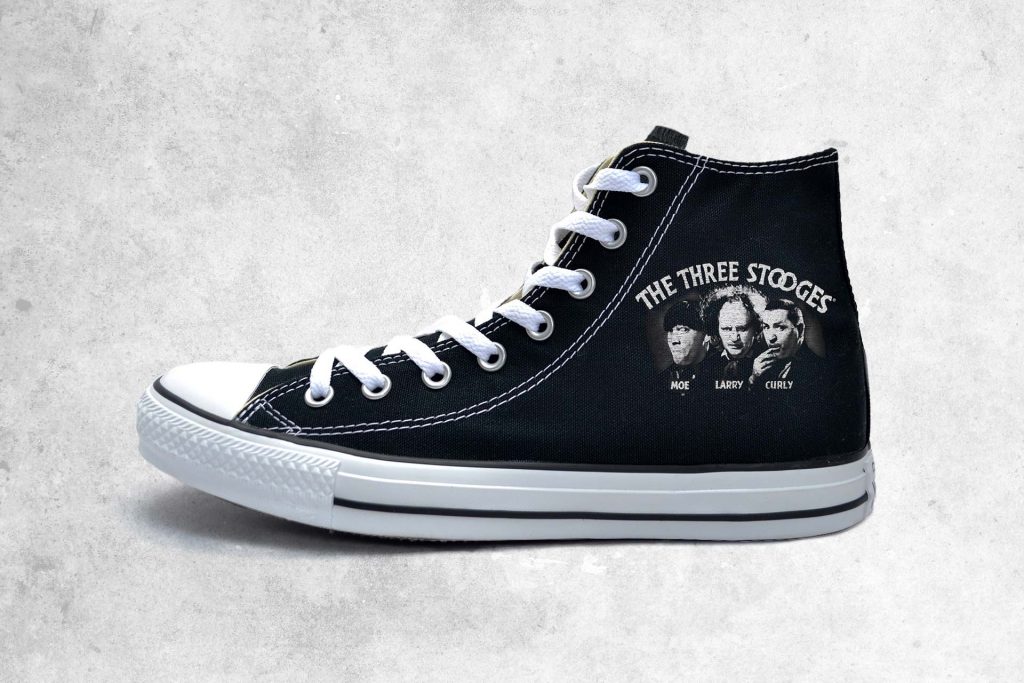 GLENDALE, CA – April 24, 2019 – C3 Entertainment, Inc. announces NVR Shoes as a licensee for The Three Stooges and Motor Marc Art  Brands for a line of custom sneakers. The Three Stooges and Motor Marc Art Brands collections are currently available online at theavelosangeles.com.
Sneakerheads everywhere rejoice for Larry, Moe, and Curly, in addition to the fantasy art of internationally acclaimed fine artist, Motor Marc, gracing notable footwear makers such as Vans, Converse, and NVR Shoes. "The unique style, quality, and comfort of the NVR sneakers will appeal to Three Stooges and Motor Marc fans," says Ani Khachoian, C3's Executive Vice President of Licensing, Merchandising, and Distribution.
The Three Stooges and Motor Marc are among top brands to embellish NVR's NVR5's sneakers, the first canvas shoe that was built around patented DTG-Print technology. Each shoe comes with an insole for comfort, foam inserts in the sidewalls for added quality and durability, and a synthetic backstay/toe protector for added style and functionality. NVR shoes are designed and decorated out of their facility in Los Angeles, CA. Sneakers retail for $69.00.
Nick Romero, owner of NVR Shoes, shared, "I couldn't be more excited about our partnership with C3, Motor Marc, and The Three Stooges. The opportunity to partner with this company and these brands to offer footwear is huge for us, and I think the fans will agree."
C3 Entertainment is the exclusive manager of the Motor Marc and The Three Stooges brands, including all licensing and distribution.
About The Three Stooges:
The Three Stooges are ingrained in the pop culture lexicon and are forever popular through their timeless physical comedy and quotable dialog in their film shorts and movies. With a body of work including over 220 films, personal appearances, stage shows, and continuous play on television every day, The Three Stooges' popularity continues to rise even today.
About Motor Marc:
Motor Marc is an internationally known artist, recognized for his extraordinary works including fantasy art, classic cars, motorcycles, and music fine art. His art has been featured on ABC, NBC, CBS, Fox, and Speed TV. He has recently appeared on a line of Urban Spirit clothing apparel and towels.
About NVR Shoes:
NVR Shoes was founded by LA's customized sneaker king, Nick Romero. Romero began his customized design success with his Venice Beach storefront, The Ave. Designed with customization in mind, NVR Shoes are engineered to work efficiently with Romero's patented printing process. He and his creations have been featured on ABC's Shark Tank, MTV2's The Dub Magazine Project with Macklemore, Entertainment Tonight with Sofia Vergara, G4's Attack of the Show, Beats Per Mnet, KTLA 5 Morning News, Ovation TV's The Art of: Sneakers, and in Rolling Stone, The Wall Street Journal, The Source, Thrillist, Metal Insider and many more.